JoJo's Bizarre Adventure: Most Powerful Stands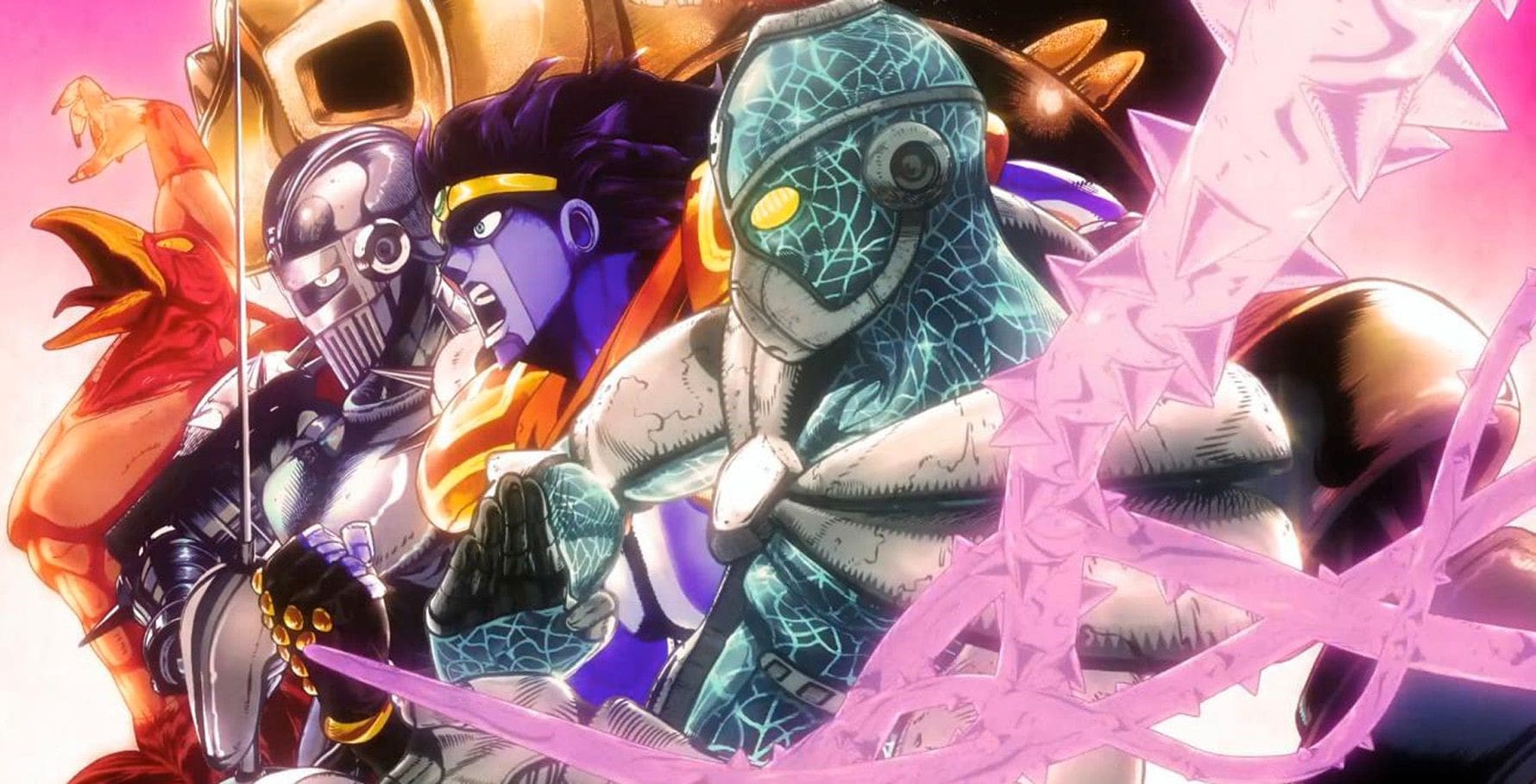 The series and different story arcs of JoJo have been a bizarre adventure for us viewers, pun intended. From fighting a childhood friend to vampiric immortal beings to characters with the surreal ability to manifest their fighting spirit. These so-called spirits are known as Stands, in the world of JoJo. Hirohiko Araki's concept of Stands has inspired numerous games and anime across the globe. For instance, the Persona and Shin Megami Tensei series have taken inspiration directly from the JoJo series. Similarly, the JoJo series has garnered the attention of fans across the globe. The availability of JoJo fan-merch is a great example of this.
Though we are familiar with hundreds of Stands introduced over the story arcs, which of them rank the highest? The following list will serve as a utility to help you determine the strength of the Stands on your own accord. Also, since Jotaro and Dio's Stands are quite similar and familiar to fans or no-fans alike, the list will be targeting all the rest of the Stands.
Tusk
User: Johnny Joestar
Part: 7, Steel Ball Run
Overview
Manifested by Johnny Joestar from JoJo's Bizarre Adventure: JoJolion, Tusk undergoes tremendous growth similar to Koiichi's Echoes. With four different ACTS depending on Johnny's SPIN state, this stand harnesses power unforeseen before.
Abilities
In ACT1, the stand appears to be a small creature of weird proportions. However, it enables Johhny to shoot his fingernails, all while reloading them at an unfathomable speed. Later on, Johnny learns to diverge the ability into a remote tracking shot, with great accuracy and speed.
In ACT2, Tusk adopts the look of a machine, with technological features to it. Additionally, Tusk becomes capable of shooting more adeptly, with impeccable accuracy, speed, and tracking. For ACT3, he begins to morph himself into a humanoid form. Tusk now allows Johnny to travel through dimensions by sucking him into his fingernails and shooting him. Although the generated wormhole makes interdimensional travel possible, it is quite intensive on Johnny's body.
Alas, ACT4 is what truly sets Tusk apart from his competition. Achievable only with Golden Spin, Tusk now becomes a gigantic humanoid wall of clippings, held in place with stars and a vibrant hue. This final form is capable of creating limitless rotations through space and time. Tusk also defies the laws of physics by negating the effect of gravity, enforcing an infinite Groundhog Day effect. Tusk is undoubtedly the culmination of all the prior JoJo series' stands. His powers are built up from the likes of Bites the Dust, Gold Experience Requiem, alongside other prevailing Stands.
Sticky Fingers
User: Bruno Bucciarati
Part: 5, Golden Wind
Overview
Similar to numerous other Stands in JoJo, Sticky Fingers is another humanoid stand with a slim yet muscular build, just like Bucciarati. The impressive design of the stand has its face hidden above the mouth by an odd, yet cool, helmet with short spikes. Working in conjunction with its owner personality, Sticky Fingers is seen to yell "ARI ARI ARI" with each move, followed by an impressive finishing line "Arrivederci!", that translates to goodbye in Italian.
Abilities
Sticky Fingers has a simple yet cool design, but, with immense appeal. As Bruno Bucciarati is the user, it allows him to create zippers by punching or even touching an entity. The zippers act as a gateway to a pocket dimension created by the Stand, allowing Bruno to travel through the dimension. Even better, Bruno can utilize the power to hide from impending doom.
Bruno's Stand, Sticky Fingers, makes a formidable adversary regardless of the threat the opponent imposes. Nevertheless, Bruno can hold his own against the strongest of opponents.
Soft and Wet
User: Josuke Higashikata
Part: 8, JoJolion
Overview
Although Soft and Wet's full strength is yet to be seen, his design nothing less of a complexity. At first glance, going off his design, one may expect his skills to be rather complex. And though this holds some truth, his powers have yet not been fully revealed. Soft and Wet has several complementary abilities: bubble generation enables the creation of swiftly vibrating, spinning cords, that give the illusion of translucent spheres. These illusive spheres can lift objects and parry attacks.
Abilities
However, the true potential of Soft and Wet lies in the conjunctive with its second power, Plunder. This second ability allows the bubbles to explode and steal property, such as eyesight from an eye, light from a bulb, and music from an instrument. The level of versatility is directly comparable with what Golden Experience offers.
King Crimson
User: Diavolo
Part: 5, Golden Wind
Overview
With a menacing and fearsome appearance, combined with formidable power, King Crimson is a force to be reckoned with. Manifested by the antagonist of JJBA: Golden Wind, Diavolo, King Crimson is undeniably one of the strongest Stands the show has to offer.
Abilities
King Crimson packs abilities that put even the likes of Dio's The World to shame. The first ability allows him to see into the future, while the other ability enables him to erase time for up to 10-seconds. Thus, granting Diavolo the power to foresee incidents and prevent them from happening. Combining and adequate use of these abilities could make Diavolo invincible— if it wasn't for Giorno's Golden Experience.
Heaven's Door
User: Rohan Kishibe
Part: 4, Diamond is Unbreakable
Overview
Amongst the fan-favorite characters of JoJo's Bizarre Adventure: Diamond is Unbreakable, Rohan and his Stand form a devastating duo. The appearance of Heaven's Door resembles that of a small humanoid creature, similar to the main character of a manga written by Rohan himself. While Rohan did get countered by Killer Queen, Heaven's Door had possibly the most potential in the entire series.
Abilities
Heaven's Door can turn a person into a comic book, allowing Rohan to invasively study everything about a person's life and character. Even better, Rohan can also alter personalities for better or worse. An example of this is evident when Rohan granted Koiichi the ability to speak Italian, without any prior knowledge. Nevertheless, Rohan is unquestionably the portrayal of Hirohiko Araki as a writer and mangaka.
Dirty Deeds Done Dirt Cheap
User: Funny Valentine
Part: 7, Steel Ball Run
Overview
You may confuse this stand for a bunny, but rest assured, D4C is a terrifying Stand wielded by the most powerful person in the world. You guessed it right, the 23rd President of the United States. When JoJo couldn't get any more bizarre, Araki sets Funny Valentine as the mastermind of JoJo's Bizarre Adventure: Steel Ball Run. Statistically speaking, D4C seems quite underwhelming. However, his abilities truly live up to the standards set by Johnny Joestar's Stand — Tusk.
Abilities
Dirty Deeds Done Dirt Cheap is capable of traveling between parallel dimensions. Funny Valentine accomplishes this by enclosing himself between two entities, making it possible for him to reappear anywhere he desires. Interestingly, Funny Valentine can also switch bodies with himself from another universe, while keeping the memories the original Valentine left. The continuous switching enables him to negate any wounds inflicted on him, making him unconquerable. If this isn't enough to make him invincible, then let's look into the second ability.
Possessing Saint's Corpse allows D4C to evolve into an even stronger Stand, D4C Love Train. This Stand defines the meaning of overpowered. It can hide Valentine in an alternate universe, directing all damage and misfortune towards someone else. In layman terms, instead of hitting Funny Valentine, you will inevitably end up killing a random person.
Nut King Call
User: Joshu Higashikata
Part: 8, JoJolion
Overview
The Stand possessed by Joshu Higashikata from JoJoLion, Nut King Call is truly an oddball. While Joshu is a side character, it would do you well not to underestimate his potential. Nut King Call's appears to be covered in screws and slates parting away, thus, making it seem as though it may fall apart eventually. However, this simply reflects the power it garners.
Abilities
Nut King Call can create nuts and bolts on anything or anyone. On removal of a nut, the assembly comes apart, taking apart everything with ease. Joshu can also use the ability to combine things as well, similar to how Crazy Diamond acts, just a tad bit cooler.
Killer Queen
User: Kira Yoshikage
Part: 4, Diamond is Unbreakable
Overview
This list would be incomplete without the addition of Kira Yoshikage and his Stand, Killer Queen. While you may have grown tired of hearing Dio's iconic 'Useless!' chants, it is impossible to feel the same way for Kira and his 'Bites the dust' ability. Moving on, the appearance of Killer Queen may seem cute to most, but the threat it imposes is indescribable.
Abilities
Primarily, Killer Queen can create bombs from whatever it touches, decimating foes from places unbeknownst. Secondly, Killer Queen is seen to equip Stray Cat in its belly, making it possible to fire invisible air bombs. Moving on, the third ability allows Killer Queen to summon a small vehicular object that targets enemies based on their temperature, detonating on contact. Last but not least, his ultimate ability, Bites the Dust is an outrageous ability that creates a time-loop, preventing anyone from finding out Kira's identity. Having seen these abilities, the name Killer Queen is unquestionably befitting Kira's Stand.
Vitamin C
User: Tamaki Damo
Part: 8, JoJolion
Abilities
Yes, Araki named a Stand after a vitamin. And though vitamins are a necessity for us humans, this Vitamin C is not. Wielded by Tamaki Damo from JoJo's Bizarre Adventure's Part 8 — JoJolion, Vitamin C is a horrific Stand. With an appearance reminiscent of King Nothing, Vitamin C has several tentacles popping out of his fingertips.
When coming in contact with one of the spectral tentacles, it liquifies the object or person into a puddle. Furthermore, when softened, the foe is rendered useless, incapable of moving or resisting anything thrown at them.
The Hand
User: Okuyasu Nijimura
Part: 4, Diamond is Unbreakable
Overview
Possessed by Okuyasu, an iconic character of JoJo's Diamond is Unbreakable arc, The Hand is easily one of the most powerful Stands on this list. However, even an unstoppable Stand is deemed useless if the user is a complete idiot.
Abilities
With a single swipe of his right hand, this stand erases whatever comes in way of its trajectory. Furthermore, it fuses both of the remaining ends, making it seem as though the erased space never existed. Okuyasu can wipe out anything or person, but due to his lack of intellect, he solely relies on a rather simple and rudimentary combat style. Undoubtedly, it would have been a treat to view this Stand in its true power and essence. Truly, a loss.
Gold Experience
User: Giorno Giovanna
Part: 5, Golden Wind
Overview
After the anime adaptation of JoJo's Bizarre Adventure: Golden Wind, Giorno has become the new fan-favorite JoJo, or should I say GioGio. His Stand, Gold Experience and Gold Experience Requiem, is indisputably the most powerful Stand in all of JoJo's Bizarre Adventures. Before delving into its design and key abilities, let's list the abilities it possesses.
Abilities
It can create, regenerate, has the theme of peace and warfare. Just the themes themselves are self-explanatory, proving the immense strength and versatility of this Stand. Onto the actual abilities, Golden Experience can transform inanimate objects and entities into living and breathing creatures. However, when touching living beings, it over-rejuvenates them, accelerating the foe's acuity. Golden Experience can also accelerate growth rates, enabling it to heal living beings as well.
However, this is just the tip of the iceberg.
Once struck by the Stand Arrow, Gold Experience develops into Gold Experience Requiem. If the above-mentioned abilities did not impress you, then hear this. GER is capable of nullifying and reverting things. The power GER possesses surpasses the intellect of Giorno.
Although we may disagree with the rankings of these Stands, we can all agree upon one thing: the Stand designs are absolutely amazing! Therefore, why not go ahead and buy yourself, a JoJo T-Shirt, to flamboyantly show off your love for the series.
---
Our Best Sellers
---